Eden – by Jamie Lisa Forbes
Rating 5 out of 5 stars: "Jamie Lisa Forbes weaves a tale in this novel that is both heartbreaking and genuinely moving. I found myself crying and laughing in equal measure while reading which, is the sign of a truly great book. I can't wait to find out what Forbes will write next and I hope that she continues creating strong characters that I could read about for hours!"–Linda, Goodreads
Rating 5 out of 5 stars:  "Eden is a compelling read with unforgettable characters and an insightful look at our culture in a time and place where the color of one's skin tainted every aspect of life."  –Virginia Campbell, Amazon
Rating 4 out of 5 stars:  "I am pleased to recommend Forbes to family and friends. Her prose rides right up there with the classic southern novelists. This is a story to savor."  –Bonnye Reed Fry, NetGalley
Rating 5 out of 5 stars:  "Jamie Lisa Forbes really captured not only the time period but the atmosphere of the American South in such a beautiful, fulfilling way."–BettyBee306, Goodreads
Rating 5 out of 5 stars: "Motivational, heart moving." –David Nduhiu, Goodreads
Rating 4 out of 5 stars: ". . .very touching novel. I enjoyed the depth of characters and fell in love with them. The story moved at a good pace and I stayed engaged with the story throughout the book. It is a very thought provoking novel and days after finishing I find myself still thinking about the characters and the choices they made." –Hillary Swiers, NetGalley
Rating 5 out of 5 stars: "A powerful absorbing book right from the first page. I felt as though I was part of the story right along with the characters."– Erin Stetler, Netgalley
Rating 3 out of 5 stars: "Woven throughout this book are themes of racial and economic prejudice, identity and family value systems. Although parts of it were emotionally draining, Eden was an enjoyable read" –Janet Ashcraft, Netgalley
Rating 5 out of 5 stars:  "Forbes has a deft hand at crafting space, time and character." –Deborah Cleaves, NetGalley
_______
The Widow Smalls 
4/7/2017–Amazon verified purchase by ArtZFriend–5 stars: 
"I recommend this book to those who love the simple life as well as the hardships of the simple life."
The Widow Smalls – 3/20/2019–Amazon verified purchase by Dave Gilpin–5 stars
The Widow Smalls – Review by Terri Hoffman Curtis, Author Sly Fly and the Gray Mare
I do not usually read short story collections, but the subject of early ranching piqued my interest.  I'm glad I stepped out of my comfort zone, because I discovered a very talented writer in Jamie Lisa Forbes.  Forbes paints pictures with her words, being able to make the reader feel, taste, smell, hear and see what is happening.  There are no cliches in her writing, and no worn-out analogies.  She has discovered original ways of showing the scenes, the characters and the action.
I look forward to reading more of Jamie Lisa Forbes' work.
The Widow Smalls – Review by Marjorie Boyd-Springer
Jamie Lisa Forbes' book The Widow Smalls is a combination of several separate stories about hardships of using land to make a living. As you read through the stories you will meet a child's struggle to make sense of her world. There is also a father who is trying one last time to earn his daughter's love. There you'll meet a couple of star crossed lovers. These are just a few of the people inside this great book. You will get to know Leah Smalls. She has been emotionally abused by her husband for thirty years. After he dies she ends up owning their ranch. She has no one to help her with the ranch. Her brothers try to take the ranch away from her. After they try to humiliate her, she takes that as the chance she needs to succeed and find herself.
This book is truly a must read for everyone. It is a page turner from start to finish. I really enjoyed reading it. I gave it 5 stars but wish I could've given it more. I highly recommend it to everyone. I look forward to more from Jamie Lisa Forbes.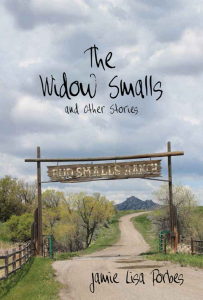 The Widow Smalls – 9/24/2018–Amazon verified purchase by J.E.B.–5 stars:
"Wonderful read.  Showed compassion yet strength of character development."
The Widow Smalls – 5/29/2017–Amazon verified purchase by Michelle Geist–5 stars. 
"Unflinching, raw, wonderfully written novel that stirs up so many emotions."
Cara Chamberlain for The Billings Gazette:
Forbes proves a wry and ironic—and yet deeply empathetic and authentic–observer of the rural West.
_______
Unbroken – Jamie Lisa Forbes
WILLA Judge: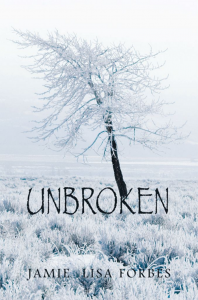 Forbes' debut novel is powerful and she presents a host of characters who are all complex emotionally flawed beings.  This is especially so in their Wyoming setting as the characters face extremely harsh winters and the difficult 24/7 life of ranchers.  The plot's emphasis on two strong women struggling to maintain a relationship is unique against a dramatic background of infidelity, single motherhood. poverty and small town isolation.
David H. Keck–Amazon reviewer–5 stars
"Compelling, authentic."
Crystal Fulcher, My Reading Room
"Unbroken was a very satisfying read for me.  I found myself putting off eating so I could read "just one more chapter" because I was so involved in the lives of the characters.  Ms. Forbes has a way of drawing you into the lives of the characters and making you feel like you are there living and working beside them, being friends with them.  It's wonderful and when the book is over you feel sad, because you want more of the story even though the story has come to its conclusion.  But you want more because you don't want to leave the characters.
To me that is the mark of a good book, when the characters and the storyline stay with me after finishing.  When I'm still thinking about something they said or did or wondering about a point the author was making or even applying something to my life.  Unbroken has something for everyone.  Descriptions of ranching life, romance, friendship, parenting, tough decisions and so much more.  There is never a lull in the plot and I found it to be an amazing read.
Suzanne Lilly the TeacherWriter
"The writing is realistic and true to the nature of life in rural Wyoming. Harsh winters, endless wind, and dependence on neighbors to survive form the backdrop of this novel. Ms. Forbes writes with a sparseness of prose to match the landscape. This book is one that opens a window onto a way of life few people experience."-